What the fuck? There is nothing about this design that makes sense. Stop. Stooop. Look at some reasonable designs
^real, historical example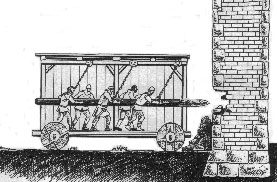 Common features:
-No random fucking spikes for no reason
-no random fucking spikes on the wheels of all things. you need those to roll smoothly, the weight of the thing gives you grip
-arrow shield either covers the manpower or covers nothing
-made with pushing both the underlying structure and the ram swing action in mind
-no finely sculpted solid metal heads with random ice skate spikes that would just impede movement over uneven terrain
-rams are operated by rope pull back and letting the momentum carry through on a pendulum design. or a pure wheeled design with handles to push.
Problems with SV's design:
-Random fucking spikes. everywhere. Why. What the fuck, it's such a waste of metal and the only thing it does is maybe knick your own soldiers. Especially those spiked wheel axles, they're just going to rip up your legs.
-arrow shield that covers nothing. The arrow shield should either cover the people operating the machine, or cover nothing. and why does it have an eye slit? is someone going to stand on top of the fucking moving battering ram? Maybe you wanted to defend from hooks and stuff to stop the ram during operation. Then what you need is a roof. not a vertical arrow shield. That stuff would be coming from directly above during the attack.
-the operation design makes no sense. with a line of people contained by metal poles the back energy is going to kill these people after a few blows. It also prevents proper use of the (chain? why are you using a chain what the fuck) pendulum system, as your supposed to pull back and release the energy. The fully man power would make sense if there was no pendulum setup, but there is. so the people would only get in the way. Maybe if it was all wheeled, those side handles would make sense.
-who stuck their kite shield to the arrow shield. Was it wakenbake again? and that doesnt even look like an MO shield
-the head of the battering ram is incredibly dumb. Those side spikes would just break off if they ever make contact, the point is that the energy of the blow is directed through the mass of the log.
And for fucks sake about spikes in general, especially the expilator and direptor armors:
Now you may say, "but Mattk50, it's clearly a stylization and doesnt have to make sense, it may be different from all of MO's existing art but thats ok!" I respond:
Oh whats that? MO's manganon lacks stupid pointless spikes, has a historically proven structure and mechanism? No pointless arrow shields with fake arrow models sticking out or retard tier shields strapped on? No random fucking metal skulls with mouth skiis? Lets keep it that way.
SV, you're spending a lot of money contracting art from outside studios. Spend it right, this is essentially donator money at this point. There no reason this needs to be like this, there's no engine limitation that means you need spikes on everything this time, theres no excuse you can fall back to. How this works, is they show you concept art, you say NO THATS STUPID when it's covered in spikes, then you get a proper concept, and if they are incapable of making something without spikes, FIND SOMEONE ELSE. Learn to do things right the first time.