Tindrem

Only

Butchery Service
(That means you send me the Carcass over the Veredari in Tindrem, with COD prices are below)
(Check the box, coin on delivery and write the price from this list in it)
I will only buy the Carcass on this list, for only the price on this list. Char name:
Yunalesca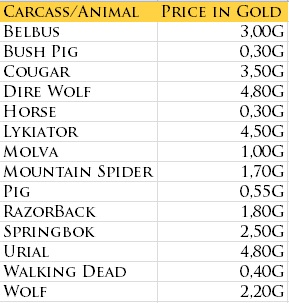 Prices are all per 1stack (10'000units).
Send the carcass to:

Yunalesca
Write me a PM if you sended the carcass

, otherwise i will not notice that you sended me carcass.